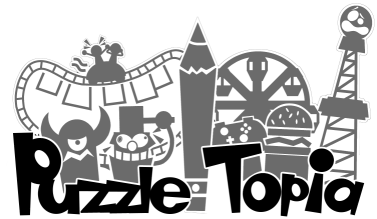 PuzzleTopia
A downloadable game for Windows, macOS, and Linux
Welcome to PuzzleTopia, a Theme Park filled with 100 fun Word Search Puzzles!
PuzzleTopia is a theme park built in Papertown, opened somewhere in October, 20XX.
It's creators, the Puzzle Brothers, whose names are C.W. and S.D. Puzzle, came up with the concept after a random client of theirs left a giant word search puzzle book outside their old dental company, since then, they left the dental company behind, and began work on their new venture, creating a theme park!
Sadly, they were only able to hire just one person to do all the work around the park, so they picked a random person they found on the streets, and that person's name is Will... the Vendor (is that even an actual last name!?).

That's where YOU (the player character) come in.
One day, while you were bored out of your mind in a lazy afternoon, mindlessly switching between channels of the TV in your apartment, you come across an intriguing news report about a brand new park that just opened up in town called PuzzleTopia, knowing that you had nothing else to do, you visit the park.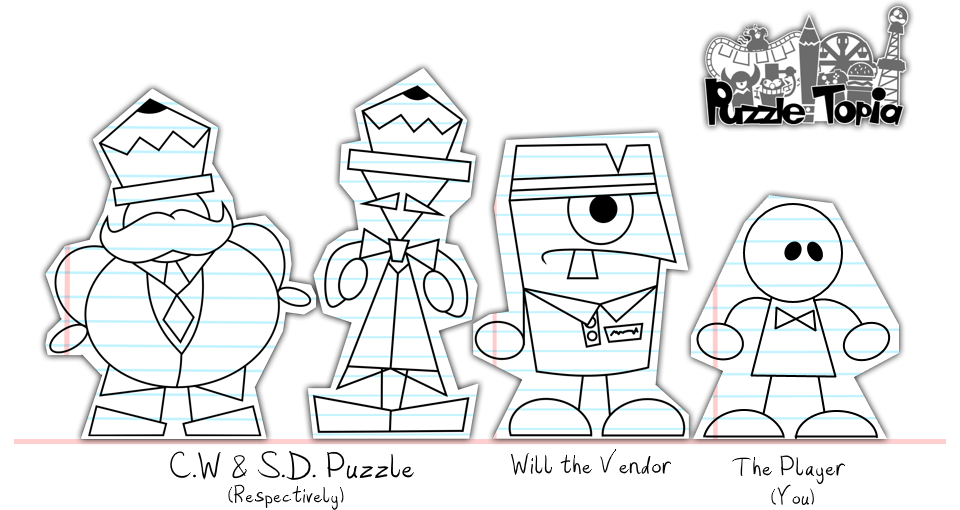 But what's this game REALLY about?
PuzzleTopia is a game about solving word search puzzles in a theme park setting, in which there are a total of 100 puzzles, it includes a character creator, which you can use to roam the theme park, or have them doing silly stuff while you're solving a puzzle!

What are the controls?
Simple, my good friend, here's a list of all available controls:
Keyboard (Method #1)
WASD - Move
J - Select
K - Return
Keyboard (Method #2)
↑, ←, ↓, → - Move
Z - Select
X - Return
Controller
Left Stick / Dpad - Move
A / B - Select
X / Y - Return
That's pretty interesting, but what does the game itself look like?
Glad you asked! Here are a couple of screenshots:
Please Note!
Files labeled with (Windows) are game files meant to work with Windows computers, and files labeled with (Other OS) are files meant to work on every other OS (Including Windows) using the LÖVE executable (which can be downloaded here).
And last but not least, I hope you enjoy the game as much as I enjoyed making it!
@ 2020, QQnut Games
Purchase
In order to download this game you must purchase it at or above the minimum price of $9.99 USD. You will get access to the following files:
PuzzleTopia V1.1 (Windows)
46 MB
PuzzleTopia V1.1 (Other OS)
43 MB